Today we will analyze for you the engine and central unit of one of the most widespread LCVs of the World: Fiat's Ducato. You probably already know it as Citroen Jumper, Citroen Relay, Peugeot Boxer, Peugeot Manager and RAM ProMaster. Don't worry! As for commercial vehicles, it is quite common to find the same engine mounted on vans of different manufacturers. In some cases, they can share the same body, yet feature a different engine. Of course, they never share the same trademark. It's a market need!
For this news, we chose the new Ducato version, the 2.3 Multijet 130 HP, equipped with Magneti Marelli MJ8DF electronics.
Third-generation (MY2006, MY2011 facelift) and fourth-generation (MY2014) Fiat Ducato:
In 2006, the third generation of Fiat Ducato (250 series) was released, a new van in terms of technical features, characterized by a wide grille compared to its Citroen and Peugeot 'cousins'. Many kinds of car bodies and chassis were introduced: Ducato 30 (3 tons), Ducato 33 (3.3 tons), Ducato Maxi 35 (3.5 tons) and Ducato Maxi 40 (4 tons).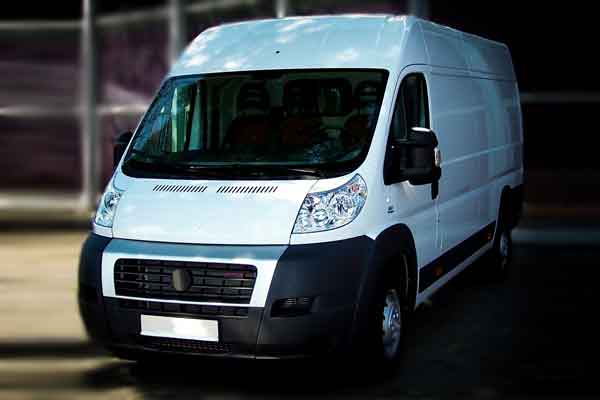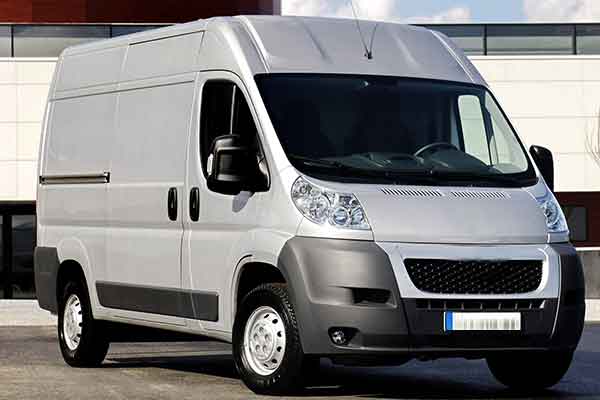 At the end of 2011, Ducato, Jumper and Boxer underwent a slight restyling and a significant improvement in terms of efficiency and power of the new engines: they were all updated to the Euro 5 European emission standard. Today we will focus on the original file of a 2.3L Multijet 130PS third-series Ducato controlled by Magneti Marelli MJ8D electronics.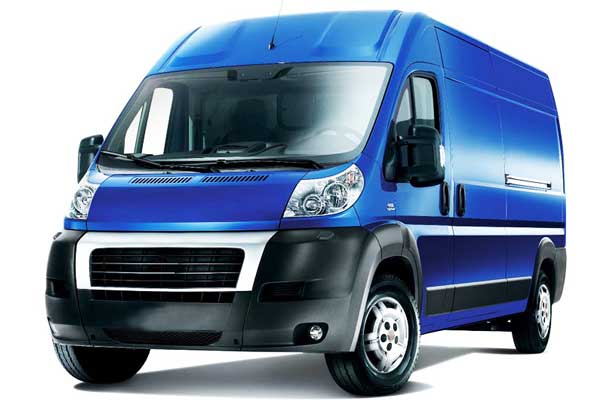 The turbo diesel engines available were:
2L Multijet: Ford Puma deriving from PSA
3L Multijet: Sofim/Iveco F1AE3481G, F1AE3481D and F1AE3481E
0L Multijet: Sofim/Iveco F1CE3481E
The last version of Ducato dates back 2014. Even though it is based on the previous generation, the differences about the front side are really clear. The headlight unit has totally changed: it's more similar to a car's one than a van's. Last but not least, the engines were updated to the current Euro 6 European emission standard.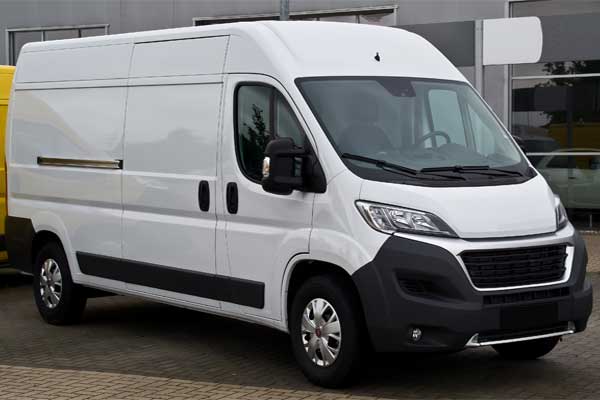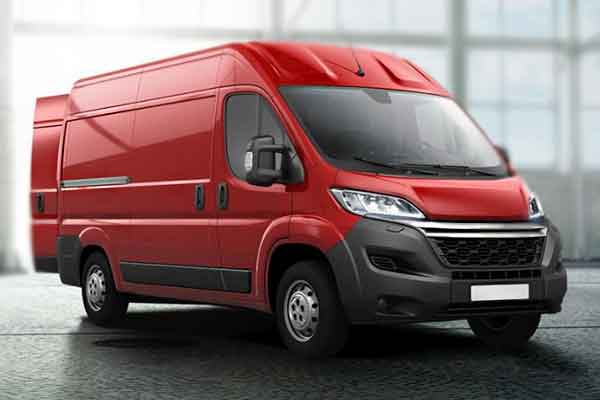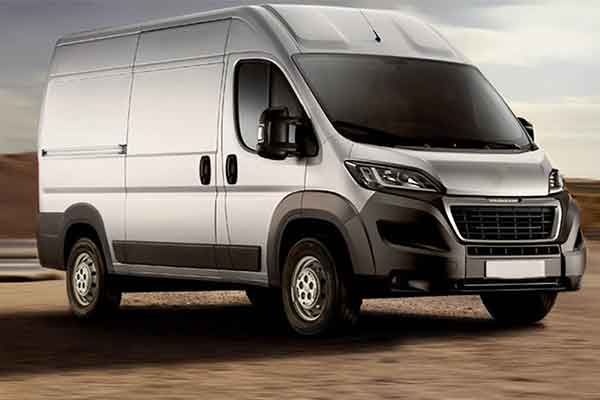 Fiat Ducato's features:
3L 4 cylinders in line DOHC 16v Turbodiesel (4 valves per cylinder)
Multijet 2 Common Rail direct injection
6 speed manual transmission
130HP @3600 rpm (96kW, 128bhp) F1AE3481D
320Nm @1800 rpm (236 lb/ft)
The 2.3L engine is also available in the F1AE3481G with 113HP (83kW, 110bhp) and F1AE3481E with 148HP (109kW, 146bhp) versions.
The Iveco/Sofim 2.3L Turbodiesel engine
The 2287cc engine mounted on Fiat Ducato and other FCA Group's vehicles is very reliable. Also thanks to the Magneti Marelli electronics that controls it, it can comply with the current Euro 6 standard. In the three power versions available, the only difference characterizing the engine mechanics is the turbocharger. Fixed geometry for the F1AE3481G and F1AE3481D versions or variable geometry for the F1AE3481E version. This is why this last version presents the highest power level with 148HP (109 kW, 146bhp).
Magneti Marelli MJ8D engine control unit
As any new ECU, MJ8DF is an engine control unit based on the calculation of the engine torque. It is associated to the Fiat Multijet 2 injection system version. This new model is cleaner and more efficient than the older generation, that was also controlled by Magneti Marelli electronics.
Control unit details
Manufacturer: Marelli
Model: MJ8DF
Micro-controller: Motorola MPC5565
EEPROM: ST95640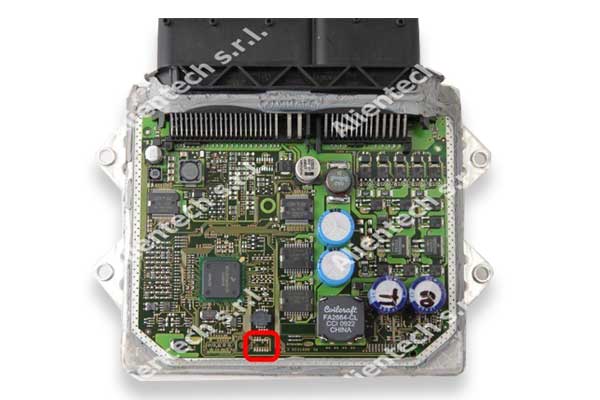 Control unit modification mode
Through the K-TAG tool and the activation of JTAG Nexus MPC5xxx, family 382, you can perform the back-up of the ECU, and totally manage the engine parameters; you can even replicate it.
The type of connection we chose is based on a positioning template: this connection is very simple and does not require using a welding machine.
Required accessories
14P600KT02 cable (Supplied with the K-TAG tool)
14P800ADBO positioning frame
14AM00T05M adapter
144300T102 flat cable (Supplied with the K-TAG tool)
Using the KESSv2 tool and the 293 protocol you can write your modified file via OBD, without opening the control unit.
The 293 protocol allows to recognize the control unit (ID process) in order to request the original file through our database. As an alternative, you can always use the file read with your K-TAG tool.
ECM Titanium drivers
Here is an example of the new drivers available: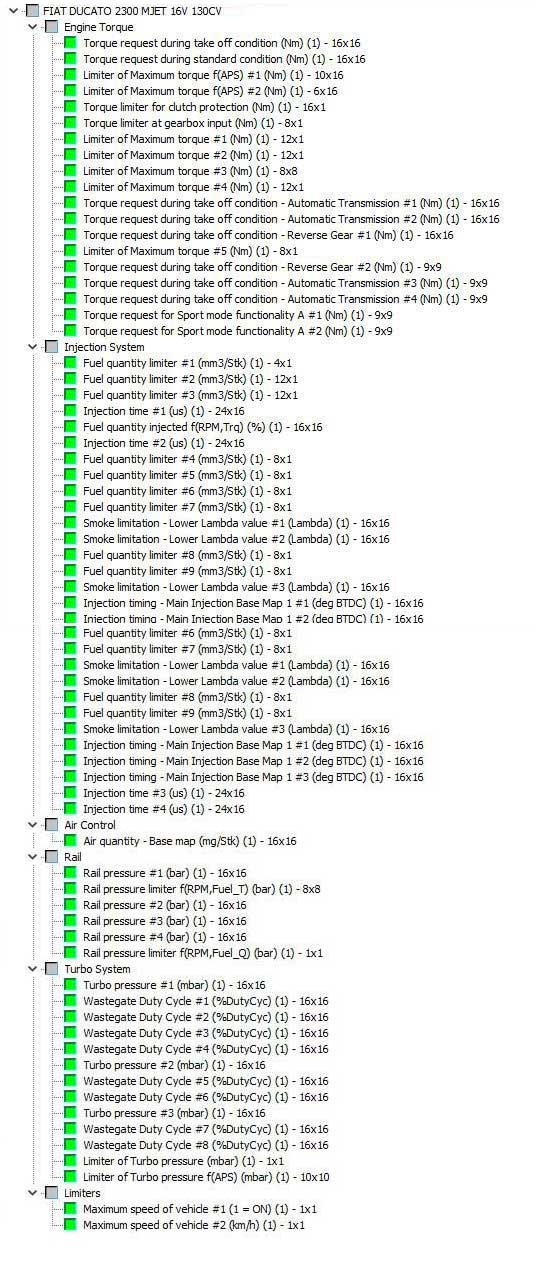 Concerning the Turbo category, please notice that as stated in the engine description, turbo pressure adjustment is determined by Wastegate Duty Cycle [%DutyCyc] maps, since the 130HP version has a fixed-geometry turbocharger.
We will now focus on some maps. Don't be surprised if torque limitation values do not correspond to the data declared by manufacturers. You cannot totally rely on the data declared by manufacturers.
Maximum torque limiter #5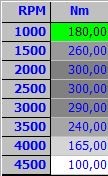 Significantly lower than the one declared by Fiat (320Nm). It is highly probable that the torque has been reduced due to frequent damages to the transmission, which is not sufficiently dimensioned for a 2.3L engine. So, please, don't overindulge!
A very important remark, both for power increase and fuel saving: the Turbo Pressure #1 map presents values reaching a maximum of 2,200 [mbar]. A bit too low for such an engine.

And taking into account that Fuel quantity limiter #2 and #3 reach 60 [mm3/Stk], the map regulating turbo pressure always presents the same peak value.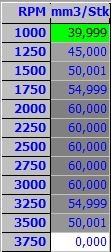 This is not correct. Once the fuel quantity increases, the quantity of exhaust gas on the turbocharger increases as well and, as a consequence, the turbo pressure should increase either.
We also warmly suggest you to modify the Torque requested during acceleration and Torque during standard conditions maps.
By observing their 3D shapes (almost identical), you can easily notice the actual curve of the torque trend. To modify the response to the accelerator pedal stress, adjust these two maps.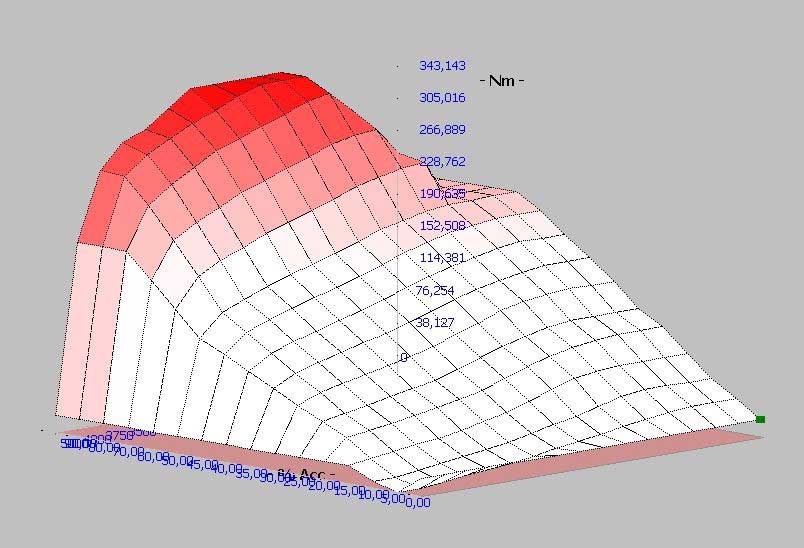 The maps shown will have the following units of measure:
[Nm] for axes and engine torque maps.
[km/h] for speed limitation maps.
[mbar] for axes and turbo pressure maps.
[%DutyCyc] for turbo pressure adjustment maps (Wastegate).
[mm3] for axes and fuel quantity maps.
[us] for injection times control maps.
[deg BTDC] for injection phase control maps.
[bar] for Rail pressure management maps.
Useful information
"Maybe not everybody knows…"
At the beginning we said that there are other vehicles similar to Fiat Ducato, even identical ones but sometimes fitted with very different engines:
Citroen Jumper
Iveco Daily
Peugeot Boxer and Manager (Mexico)
RAM ProMaster
Fiat and Iveco vehicles are fitted with a 2.3L engine, but even if the engine is the same, the control unit is not always a Magneti Marelli MJ8D. The latest Daily 2.3L turbo-diesel version supported by Alientech's tools is, in fact, equipped with Bosch EDC17C49 electronics.
At this point, many of you will probably ask themselves: why didn't we present today the latest 2.3L Fiat Ducato featuring a Magneti Marelli ECU? First of all, the new version with MJ9D is currently available for the European and North-American markets only, therefore not yet sold globally! And we don't want to spoil the new… Which new? Follow us and you'll discover it very soon…
L'articolo Fiat Ducato 2.3L Multijet 130PS proviene da Alientech News & Blog.